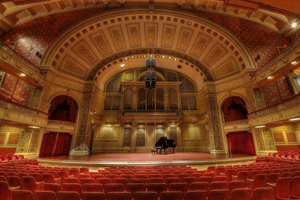 Everybody loves to go to the theater. The owner of the Kinetics has a college degree in Technical Theater and many years of extensive touring, giving him outstanding experience in this field. Set up a meeting with us to review your audio, video, lighting and digital signage needs.
If you desire a sound system that sounds great throughout the audience, we have the solution. If your wireless mics give you fits, we can fix that for you. We have the equipment to properly scan your airwaves to find interference free zones. Maybe you want to replace those old school lights with bright and versatile LED lights?
Let Kinetics AV be a great resource for you.